"I ball for real, y'all is Sam Bowie. And with the third pick, I made the earth sick. M.J., him Jay, fadeaway, perfect"

– Jay Z – Hola Hovito
Sam Bowie scored well over five thousand career points in a ten-year NBA career. In 1991/92, Bowie would play in 71 games and average 15 points and eight rebounds per game for the New Jersey Nets. A respectable NBA resumé you might think. But Bowie spent his entire basketball career simply known as the man selected by the Portland Trailblazers ahead of Michael Jordan.
I'm going to revisit the story of Sam Bowie, explore the perception of him being a 'bust' and whether that is a fair statement to make. But first, I want to think about the perception of draft picks more generally.
As we can now look back at this year's NBA Summer league and as the regular season draws nearer, it can be easy to get carried away with expectations for whichever young player is carrying the hopes of the franchise you follow. I know I'm guilty.
We are the New York Knox 😎 https://t.co/J3KchlyvU0

— Nick Whitfield (@Njwhitfield) July 11, 2018
These players have their full career ahead of them and the story that they hope to write in the annals of basketball history is but a blank page. If you permiss the clumsy use of the concept, all NBA draft picks at his stage are effectively "Schrödinger's" basketball player. Unknown and coexisting versions of their futures exist, in which they simultaneously become a huge success, are labelled a 'bust' or somewhere in between.
(Yup, this article just got all kinds of Interstellar)
Some may view this uncertainty with optimism, seeing opportunity and confidence in their own agency to make a reality of the future they have dreamed of. Others may be wary, looking to the past to understand that many variables outside of their control will also determine their legacy in the game of basketball.
"WTF bro – I just wanted to read about basketball?" I hear you say.
I'm getting there. Jeez.
The 1984 NBA Draft
What I'm (slowly) getting at, is the inexact science of drafting in the NBA. It's easy to look back at the 1984 draft with the benefit of hindsight and think it ridiculous for anyone to be drafted ahead of Jordan, let alone a non-superstar level player. But as we see every single year, were the draft to be repeated with the benefit of hindsight, it would often be wildly different from the actual order.
1984 is an interesting year to look back on from a draft perspective in particular though. The Lakers and Celtics had played the first of what would become back-to-back Finals matchups, it was an all-timer in terms of the talent that entered the league (including that Michael Jordan guy), and *ahem* most critically for the game of basketball, the author of this article was born.
From a modern perspective, the draft looks weird in a number of ways. Carl Lewis (yes, the athlete who never even played basketball) was drafted in the 10th round.
Hold up. THERE WAS A 10th ROUND?!
I'm personally pretty offended that even as an unborn child I wasn't drafted in 1984 seeing as there were ten whole rounds. I had huge upside!
I digress…
If you read the 1984 draft order from the top, you'd see:
1st Akeem Olajuwon (he hadn't adopted the 'H' on his first name yet)
2nd Sam Bowie
3rd Michael Jordan
4th Sam Perkins
5th Charles Barkley
7th Alvin Robertson
9th Otis Thorpe
11th Kevin Willis
16th John Stockton
Being picked one spot ahead of the player that would go on to be considered the greatest of all time is a tough gig. In hindsight, it looks crazy (and in many ways it was), but there was also a real difference in the perception of talent and the relative importance of various roles on a basketball team.
"You don't win a world championship with a guard. You do win with a dominating guy inside. Bowie is not going to be that the first year, but in a couple years he will be. He was as good as anyone else when he first came in."

Kiki Vandeweghe, Portland Trail Blazers forward
With the importance of the center position arguably at an all time low in the current NBA, it might seem strange to us now to read these types of comments. But this was a league that had witnessed the dominance of players like Wilt Chamberlain, Bill Russell and Kareem Abdul-Jabbar was still in the midst of an incredible 20 year career. Even the likes of George Mikan in the league's earlier days had been so dominant, the league had been forced to change the rules of the game. The Blazers themselves had even enjoyed an MVP campaign (1977-78) and a title the year prior thanks to a star big man in Bill Walton
It was conventional wisdom that you needed a dominant center to win, and so teams were ready to go all out to try and secure one. On paper, Bowie had all the accolades you'd want from a potential franchise player. By 1979, he was considered the No. 1 high school player in the country, ahead of Isiah Thomas (not that one), James Worthy, Dominique Wilkins, Clark Kellogg and Ralph Sampson.
Averaging 28 points and 18 rebounds per game, becoming a McDonalds and Parade All-American, leading his team to the State Finals as a Junior and being named as Player of the Year over the heavily-recruited Ralph Sampson… It seemed like nothing could get in the way of Sam Bowie becoming a superstar in college basketball and then the professional ranks.
At the University of Kentucky, Bowie's sophomore season saw him average 17.5 points and nine rebounds per game. He was named a third-team NCAA Basketball All-American by the Associated Press and in 1981 he also set the Kentucky record for the most blocked shots in a single game with nine. The momentum behind Bowie seemed unstoppable. That was until injury hit.
Coming down from a dunk off balance in his Sophomore campaign, Bowie sustained a stress fracture to his left tibia that would eventually mean he missed the 1981-82 and 1982-83 campaigns. After finally recovering, Bowie returned for the 1983/84 season and showed flashes of the pre-injury player. Whilst his scoring dipped to 10.5 points per game, he maintained his rebounding numbers and was still named as a second-team All-American. Kentucky would win the SEC Championship, and would only lose in the NCAA Final Four to Patrick Ewing and the Georgetown Hoyas. Capturing how Bowie held the fascination of the sports media world, he would also appear on the cover of Sports Illustrated.
Rookie Season
The professional career of Sam Bowie is often mistakenly thought of as being more or less completely compromised due to his injury problems. And while it's certainly true that injuries kept him from being the franchise star he may otherwise have been, he was still a solid contributor. As a rookie, he put up 10 ppg, 8.6 rpg, 2.8 assists and 2.7 bpg. That's pretty darn good for a rookie. It's just a shame that it was also probably his best statistical season overall.
We've covered the reasons why Portland had made this decision and the motivations and the context leading up to the draft pick. But what about after the pick?
The second shame was just how quickly it felt pretty obvious that Portland had made a big mistake with their draft pick. Even the announcers that were covering the 1984 draft for the TV audience seemed to convey this in their treatment of the respective second and third picks.
[Full credit to the Bill Simmons Book of Basketball for the below extract]
Announcing the pick of Sam Bowie:
""Sam Bowie, the young man who came back from a stress fracture injury, the left shinbone, he was out for two seasons, redshirted, he has come back, he returned strong at Kentucky.""

"He passed up playing in the Olympics"
Versus announcing the pick of Michael Jordan:
"Everyone's excited about this one. He really captures the imagination."

"This man is a can't miss. "He makes them when they count, he can do it in traffic, he can do it under tremendous control, he's a great, great creator, in the mould of a Dr J." "He is star material, a great shooter, superb athletic ability, there are many teams that tried to pry that third pick from Chicago".
I… want that guy and not the other one. Right?
Recreated scenes of the Portland Front Office watching the broadcast:
There was a huge amount of talk about the seven hour physical that the Blazers had put Bowie through, apparently to definitively understand the extent of his injuries. Unfortunately for Portland, in 1984 the methods were a little more rudimental than we have today. And, as it turned out, quite easy to get around.
Talking to the ESPN documentary 'Going Big', Bowie admitted that:
"I can still remember them taking a little mallet, and when they would hit me on my left tibia, I said 'I don't feel anything,' I would tell them. But deep down inside, it was hurting. If what I did was lying, if what I did was wrong, at the end of the day when you have loved ones that have some needs, I did what any of us would've done."
You can't really fault that from a personal perspective, but I'm sure that Blazers fans would resent the dishonesty.
The 'What If' Game
The 'What ifs' get really big and really quickly. Stick with me.
The Portland Trailblazers had already drafted an athletic guard / forward in the 1983 draft by the name of Clyde Drexler.
Clyde. The Glide. Drexler.
If you're lucky enough to be so young that you didn't get to watch the man play, look at his career numbers right now. Here is the link and everything. Do it.
Having lost in the Finals a couple of times as a franchise player (1990 to the Bad Boy Pistons and 1992 to Michael Jordan's Bulls) and eventually winning his ring in Houston as a secondary player to Olajuwon (that other guy from the 1984 draft) I'm not sure Clyde is quite remembered by many for just how good he actually was. Whilst it sounds silly now, knowing how their careers played out, before they competed in the Finals against one another, there was a legitimate debate over who was the superior player between Drexler and Jordan. You have to remember that Drexler had already led a team to the Finals at this point, whilst the Bulls had largely struggled, despite Jordan's heroics.
This was the guy they could have teamed with Michael Jordan. Or Charles Barkley. Or John Stockton.
How many championships could a Jordan and Drexler wing combination have won?
*** Drifts into an altered state of consciousness pondering that thought.***
*** The concepts of space and time seem to fade away until there is nothing left. ***
Even beyond MJ, the potential of this draft class was immense. This is where your head might hurt.
Behold.
Between 1990 and 1998, 15 of the 18 teams that competed in the NBA Finals either had Clyde Drexler himself, or someone (not named Sam Bowie) that was drafted in 1984 as a key rotation player at the very least (this dismissive phrasing is only to account for Sam Perkins' contributions playing for the Lakers and Sonics). To put the dates above into perspective in another way, Sam Bowie was out of the NBA by 1995.
Portland had a huge window of opportunity to bring a championship to Oregon and they potentially picked the only player that couldn't push Portland into being good enough to win at least one championship.
What is often forgotten about the 1984 draft also is that whilst he wouldn't play in the NBA, the Brazilian legend Oscar Schmidt was also drafted by the New Jersey Nets. There was a genuine risk of Sam Bowie being drafted ahead of ANOTHER potential hall of fame level talent…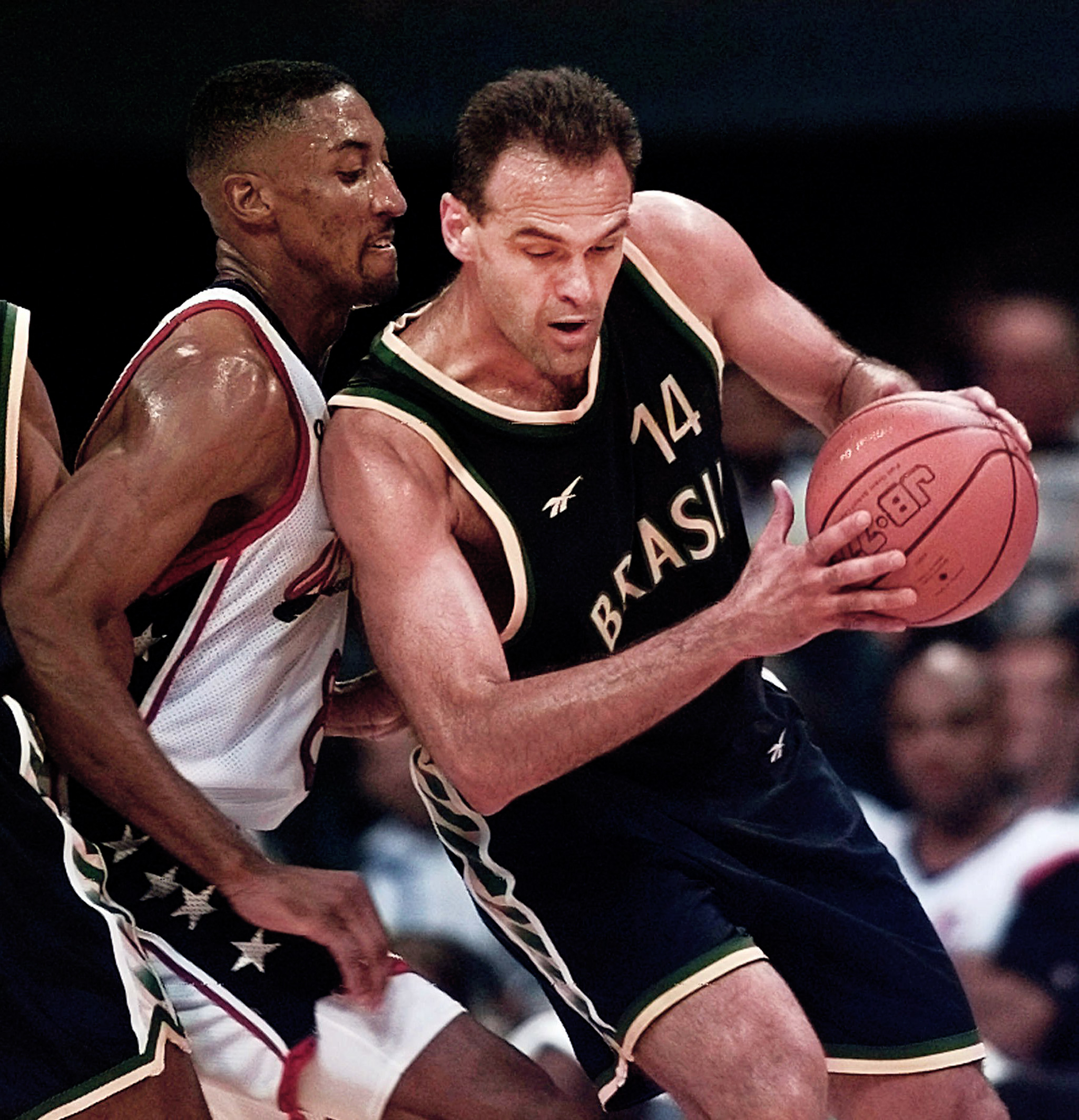 If you're not familiar with Oscar Schmidt and you think I might be exaggerating how good he was… He is the best Brazilian player of all time. Schmidt was a guy who led the 1992 Olympics in scoring, ahead of Drazen Petrovic, Arvydas Sabonis and the entire Dream Team. Between the late 70s and mid-90s he was among the top scorers in every single major international basketball tournament, playing in both FIBA and Olympic competitions.
The Big Conclusion
You might think that the perception of Bowie as a 'bust' is a tough one (you might argue it's a horrible phrase for anyone, but that's another debate!) when you consider that when he was able to play, he was an above average to middling player. If you landed on his career statistics and knew nothing else about him, you would perceive him as having had a good, ten year career.
There is one story that always sticks in my mind though when assessing Sam Bowie and his legacy.
With Bowie just four months into retirement, Michael Jordan convinced the Bulls that they should try and pick him up. This, was not something that happened very often. The Bulls had always struggled to add (with no disrespect to the players they had) upper-tier talent at this position, and so it would have felt like a low-risk gamble on a talented player.
Bowie flew to Chicago, met with the team, talked to Phil Jackson and observed a Bulls practice. This was a Bulls team on the way to securing a (then) record 72 wins. Bowie gave an interview talking about not being able to believe how crazy and obsessive Michael Jordan was at practice. He said that he'd always wondered what had made Jordan so great and he said that this experience had provided him with a level of understanding.
One of the greatest basketball teams of all time reached out to Bowie and offered him a spot on the roster – an opportunity to redeem his image and fight for an NBA championship. He witnessed the unrelenting force of will that drove Michael Jordan to become the player he was and had the opportunity to be a part of that group.
Sam Bowie opted to never play professional basketball ever again.
---
Featured photo – via Double Clutch illustration